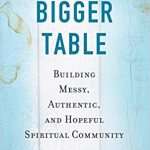 John Pavlovitz' new book, A Bigger Table, published this fall by Westminster John Knox Press, is a thought-provoking and helpful addition to the conversation about what it means to navigate change in the 21st century Church.
I was delighted to be asked to review A Bigger Table for the Englewood Review of Books, an Indiana gem.  You're welcome to read the review here.
Better yet, read the book, and then let's have a conversation!