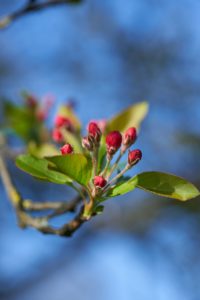 My favorite Holy Week illustration comes from author E.B. White (of Stuart Little and Charlotte's Web fame). It's a story about White's wife, author and editor, Katherine Sergeant Angell White.  In the introduction to one of her books, he reflected on her plans for a garden in a spring she would likely not experience, because of age and infirmity.  He wrote:
"Armed with a diagram and a clipboard, Katherine would get into a shabby old brooks raincoat much too long for her, put on a little round wool hat, pull on a pair of overshoes and proceed to the director's chair – a folding canvas thing – that had been placed for her at the edge of the plot. There she would sit, hour after hour, in the wind and the weather, while Henry Allen produced dozens of brown paper packages of new bulbs and a basketful of old ones, ready for the intricate interment. As the years went by and age overtook her, there was something comical yet touching in her bedraggled appearance on this awesome occasion – the small, hunched-over figure, her studied absorption in the implausible notion that there would be yet another spring, oblivious to the ending of her own days, which she knew perfectly well was near at hand, sitting there with her detailed chart under those dark skies in the dying October, calmly plotting the resurrection."
E. B. White, "Introduction" in K. S. White, Onward and Upward in the Garden
I write this blog post, thinking of everyone who is moving through this very different Holy Week, and imagining all of us considering the days ahead with the overlay of the coronavirus and the tragic news that seems to infiltrate each day.  This is one somber Holy Week, and will be one very different, likely very meaningful Day of Resurrection.
I am more convinced than ever that our faith can and will sustain us through these days and weeks, knowing that stay at home orders have touched us in many different ways. For those who live in areas with few or no confirmed cases (as of today we have but one county in the presbytery with no confirmed cases) the requirement to stay at home must seem like it's meant for someone or some place else. For counties that are seeing their numbers steadily increase, the concern for health and safety is deep and real. And for those who are dealing directly with the disease called COVID-19, our prayers are unceasing for those who are grieving losses of life and opportunity, of celebration and simple presence.
This journey through Holy Week will take us to Easter. That promise is real. And just as Hebrews 11 promises, "Faith is the assurance of things hoped for, the conviction of things not seen."  Go ahead, and keep on calmly plotting your observances of the resurrection– your videos, online devotions, Zoom coffee hours and traditional cards and notes and phone calls.  Calmly plot the chance to say again, "He is risen,"  because He is, and he will be.  I'm sure of it.