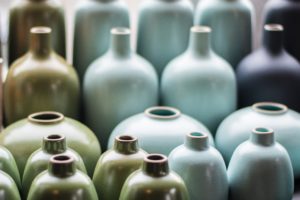 "But we have this treasure in clay jars, so that it may be made clear that this extraordinary power belongs to God and does not come from us." (II Corinthians 4:7)
Siblings, friends, members of the body of Christ, I see you.
I see you, pastors, sheltering at home, yet working harder than ever to connect with the congregations you serve.
I see you, chaplains, continuing to serve in hospitals and other institutions, continuing to visit with patients, when no one beyond medical personnel is involved, or navigating tele-counseling in these difficult times.
I see you, honorably retired clergy and members-at-large, ruling elders (commissioned or otherwise), inquirers and candidates, reaching out, taping video story times, volunteering to maintain essential services, contacting me to see how you can be of help in these times. Loving God, like Mr. Rogers taught us, I'm looking for the helpers, and I'm seeing them all over the Presbytery of Wabash Valley. I give you thanks.
Virtual services and virtual meetings, email devotionals and Zoom coffee hours. Hearts in your windows and colored palm fronds to attach to your doors. Phone calls and check-ins and encouraging sustained giving. What about One Great Hour of Sharing? Oh, and the April edition of the church newsletter when the office is closed?  And that's just the church stuff.  Gracious God, thank you for the body of Christ, showing strength in weakness, adapting in the midst of uncertainty.  Thank you, God, for all of your servants. 
We're also spouses, parents, siblings, and adult children, partners and neighbors and friends. We're pet owners and condo association presidents, Scout leaders, graduate students, volunteers.  And we're people. Finite, limited, stretched, stressed, vulnerable, beloved children of God. We're clay jars, cracked pots, overflowing with responsibilities and concerns, hopes and worries, filled up with empathy and already experiencing grief and loss.  Merciful God, healer of our every ill, light of each tomorrow, we need you.  Every hour we need you. 
Dear friends, we have no idea how long this crisis will last. If we haven't already, we need to add ourselves to the list of people for whom we are caring. I couldn't care less what you call it: self-care, taking a break, observing sabbath, a day off, PLEASE, PLEASE, pass the baton because, it is a relay, and you don't have to run it alone. Which of your responsibilities might you be able to delegate for a day or longer? (There are folks who would welcome the chance to support the ministry of the church. Really and truly!) How can you take care of your soul while sheltering in place?  When can you take a walk or a run?  When was the last time you listened to music for pleasure?  What about phoning a friend?
If you find yourself really struggling, and need more assistance than a walk in the sunshine might help, please consult the list of resources on the presbytery website or our Facebook page, contact the Employee Assistance Program of the Board of Pensions, or consider  reaching out to me.  I'm right here, and I will listen and "hold the Christ light for you, 'til we've seen this journey through." Holy God, you gave us the treasure of your awesome power, but we hold it in clay jars. Help us tend the vessels that we are and those around us with great love and care. In Jesus' name we pray. Amen. 
In hope,
Jennifer