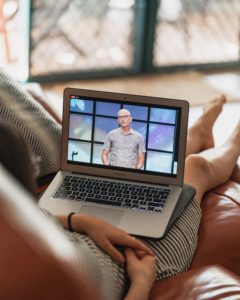 Part One: Technology
I have regular, daily conversations with church leaders who are finding their way in this unusual and challenging time.  Most of them cite how hard it is to know if the decisions they are making with their sessions and others are the right ones. Most of them find the wide range of opinions about opening or closing their church buildings, whether or not to require masks, or  how to work through an interview process with a PNC to be unsettling at best and anxiety producing at worst. Every day I converse with a pastor or a church member who is weighed down by the grief of missing opportunities for face-to-face pastoral care.
Couple the professional navigation with the personal experience of addressing individual or family needs and the reality of illness in one's own life or that of a family member, the challenge of getting away, take a vacation or a couple of days off, and we have a lot of tired, sad, lonely, unfulfilled folks on our hands. But that's not the end of the story.
One conversation this week sparked some additional thoughts for me. Mid-Council colleague Steve Curenton remarked that he's encouraging church leaders not to frame their conversation, and in particular their on-line remarks, with sentences like "When we get back to worshipping together"  because it ignores the fact that online worship IS worship, and that most congregations offering worship online have extended their reach to include new people and many more people, near and far, who will not be "going back"  to worship with them when they resume in-person worship. He's rightly encouraging congregations to find ways to manageably sustain their online presence, not only for their members, but also because they've formed some connections with others who may now consider themselves part of that on-line worshipping community.
What if we thought about our congregations as inhabiting many rooms in God's big house—and that some of our  people worship with us online, and others in person?  It could be that the greater number of those affiliated with the congregation are part of our virtual church.
That prompted me to wonder what else church leaders have learned or are learning in this time of Covid-19. What can people point to as moments or occasions of insight and affirmation?  How are our friends and colleagues growing in their understanding of what it means to be the Church in this time?
I reached out to a random sampling of Presbytery of Wabash Valley clergy and members of congregations to learn more about what they've been learning.  I asked them to share just one thing, but most had plenty more to share than just one insight.  We are clearly learning a great deal, and one article has fast become a series. This is part one.
Some of those who responded answered from a personal perspective about their daily lives. Others shared some observations about what they are learning professionally. Not surprisingly, all answered with clarity, wisdom and breathtaking faith.   I am excited to share just some of their observations with you.
Our friends and colleagues have learned a lot about technology, where it can lead us and how it can connect us.   "I can make movies!"  said one.  Said another, "I was also surprised how connected I felt to the folks, even while miring through the digital, live-streaming worship."  One answered entirely from the perspective of a technologist/theologian and mused, "Recoding the sermon ahead of time (Thursday usually) has freed up my week in so many ways. I can actually join alongside viewers and greet guests on Sunday morning. I actually move toward the weekend with joy and excitement rather than worry about whether or not technology vibes will be in our favor."
"Many people have been eager to learn about Zoom so they can be part of worship leadership. New people who are feeling the opportunity to lead. Love it!"
"Families love leading worship from their homes as a family unit. Even pets have appeared."
"Committee meetings are joy filled, more concise, and everyone is present."
"I have felt a freedom to risk stepping outside the confines of the two established worship services before the pandemic. Offering one service online has been glorious and helped us experience our ability to survive and be with one another in one service that has reflected components from both traditional and contemporary worship."
"It's freed up the worship committee to see opportunities for the future."
"There's an openness to technology so all ages can stay connected."
"Inviting speakers/preachers/presenters from outside our walls to join us on a Sunday has been a huge evangelism move that has blessed us with new opportunities to reach out to others.'
"Most of the time I feel like members and other viewers are more present in what we offer now. People are showing up for worship and finding an abundance rather than scarcity."
"Offering Bible study each day has broadened our viewership and brought in many people who have been seeking spiritual conversations for a very, very long time. Our presence is safe."
That's all from one friend, who has learned a lot about the congregation and how it has responded to technology.  Another remarked, "Although we are apart, 6 foot and beyond, we still yearn to be together.  We fulfill that desire by staying in contact with one another through technology and or good old fashioned telephone calls.  We found many ways with which to reach our church family and stay connected."
One person commented about the power of an online presence: "I have also been amazed at how many people view our videos of the Facebook Live services.  While not that many may view in real time, they continue to be viewed throughout the day and week following.  Nearly every week, more people watch the Facebook offerings than attend the in-person services or even the drive-in services."
And finally, from a great pastor who has bravely faced technology head-on and developed new competencies and talents:  " I can't express how WONDERFUL it was to have competent help in producing the worship experience last Sunday. I'm anxious about in-sanctuary being a high-risk environment, but that is just about canceled out by the relief of having help, and seeing a few people gathered, physically-distanced, to worship God."
I look forward to sharing more of what our PWV colleagues are learning in this season.  You won't be surprised by their insight and humility, honesty and authenticity.  Not all of their observations are rosy or positive, but all are candid and clear. Our hope is that you'll resonate with some of their reflections and feel affirmed or challenged by them to explore what it is that you are experiencing for the first time or anew. Please stay tuned.
Photo by Tye Doring on Unsplash