Flora Presbyterian Church's Oasis 2018 Summer Camp Program
PER CAPITA DOLLARS AT WORK IN THE PRESBYTERY
For the last several years the Oasis Mission at Flora Presbyterian Church has sent children to Geneva Center Summer Camps to learn about God's love. Last year 12 children were sent to camp with help from the Wabash Valley Presbytery Mission Grant.
The leaders of the Oasis program feel very blessed for the part they have played the last 17 years in planting seeds into the hearts and minds of hundreds of children. We have seen most of the kids every Wednesday school evening for many years. We watch them grow up and mature. However, after planting God's seed, most of the kids disappear when they leave us. We know that God will be with them their entire lives, being patient and waiting for them to come to Him.
In the past years, the children were divided into 4 age groups with one or two leaders per group. The leaders would plan their individual activities for the evening. This year Oasis is taking on a new face. We have 4 different activity centers and each age group is rotating to the Bible Story, Activities, Music and Craft Centers. Oasis still starts with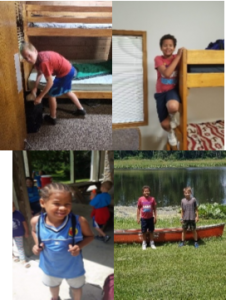 a meal each Wednesday night at 6:00 PM, followed by 30 minutes of Worship before the kids are divided into age groups. The kids seem to really enjoy the evenings.
Because of the 4 different groups to rotate every Wednesday night, we do need twice the number of leaders (4 to lead each age group and 4 to cover each rotation center). This has become another challenge for Oasis to overcome. We are patiently waiting for other volunteers so the evenings will go more smoothly. While waiting ("anything is possible with God"), we are being very innovative with newfangled ways to maintain all 4 rotations.
We must not forget the weekly volunteers and the annual volunteer meal staff that gets the meals together each week. We would not even be able to serve this weekly meal without the financial and dynamic assistance of all the volunteers.
The returning children are very anxiously waiting to spend another summer at the Geneva Center. While the children, who just joined Oasis this year along with other children who were unable to go to Geneva Center in the past, are eager to find out about Summer Camp at the Geneva Center.
Part of the twelve (from age 5 to one parent) who went to Geneva Center last year, wrote letters/statements of gratitude about their experiences:
Judah Pitts: The reason I want to go back to camp is because I want to learn more about God, see my friends I met, to have fun and friendships. Carter was there last year so I want to see him again. Last time I went to camp, it was different. There were bigger groups than the first year.   Judah explained there were the same amount of people, just few groups – making them bigger
Shawn Ross Pitts: At Geneva Center, I learned that God worked hard to make us and everything else and he will always forgive our mistakes and sins. I like Geneva Center because I made new friends. I got to learn about God and got to plan activities about God and have fun doing it.
Abby Feltner:  I really loved camp because I got to swim and I got friends. I loved camp.
Sammie Feltner: I was privileged to go to Geneva Center with two of my daughters on the same week of camp. One of the girls was in the 3rd grade and the other was in the "You and Me" camp that I attended with her. All of us truly enjoyed our time at camp. The number of campers was the perfect amount to not feel overwhelming. The counselors were able to interact individually with the campers, including the adult. The counselors seemed very passionate about pouring the love of Christ into each child. We particularly the pool and the waterslide. Both of my girls even participated in the early morning Polar Plunge down the water slide.  I was impressed with the emphasis on worship time in the evenings that was geared toward the children but also relevant to adults.  Overall, the whole experience was great! I was even able to conquer a fear by going out on the lake in a paddleboat with my daughter and niece.  It was quite empowering for me. Thank you from the bottom of my heart for the very special experience we had at camp.     Blessing, 
Emma Feltner: What I really liked about camp was when we went swimming and the morning water slide and the gift shop.  I really like camp last year, even though I am going. Even though I am going to a different camp this year I hope it will be just as fun.
Haylee Randolph: Geneva is very fun. Every morning we get the best food and get plenty of time to worship God.  I love Geneva because I met tons of kids.  It's so fun.