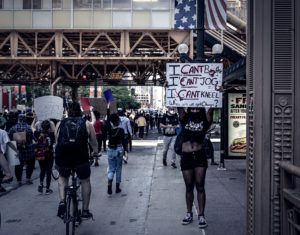 Photo by Quincy Worthington
There is no question that our nation and our world are struggling and while we have a novel coronavirus in our world, there's nothing novel or new about the tension in our country surrounding the treatment of people of color and the disproportionate impact of poverty, violence, health challenges,  and more upon people of color, and particularly black people.  There is nothing new about racial profiling, redlining, racial disparity in our criminal justice system, and violence and all of the ways in which persons of color have wrongly suffered.  There is nothing new. Say their names:  George Floyd, Ahmaud Arbery, Brionna Taylor, Eric Garner.
People are tired. People are exhausted. People are frightened and frustrated and people, many people, are angry.  The lament of the psalmist is on so many lips: "How long, O Lord?"
It's time for us to lament, and to listen, in the words of our confession of faith "to the voices of people long silenced."  It's time for us to focus on those cries, to admit our complicity in perpetuating systems that threaten and harm rather than protect and serve. It's time for people of faith to act with intention and resolve to be the people we aspire to be:  people who lift up and live the prophetic words of Micah and "do justice, love kindness and walk humbly with our God."  It's time for us to embrace Jesus' credo for his followers in Matthew 25 and respond to those in need. In doing so we are responding to Jesus. It's time for us to decry anything that smacks of using the sacred symbols of our faith for anything other than healing the wounds of God's people in peaceful, compassionate and just ways.
Many would say it's past time.  But the God in whom we trust is one with whom all things are possible. "Is anything impossible for God?"  These are moments of opportunity to be angry and frustrated and to channel that energy to positive action that will lead to change.  Our faith is personal, but it's not private.  The God we serve is a God of love, who invites us to look at the unjust systems we have created and work to change them. The God we serve is a God of hope, who reminds us that we are reformed and always reforming and that we can address problems in our society by first taking a close look at ourselves and examine how we unwittingly and sometimes intentionally cause harm through our actions and our inaction.
We are people of good news, but it's neither good nor news if it's not for all, and it's our hands and feet that become Christ's hands and feet in this hurting world.
The Presbytery of Wabash Valley's Committee on Representation (COR) met on Tuesday afternoon to pray and to discern how it could help our body, our congregations, and leaders in these moments of opportunity. This faithful group would like to remind itself and all of us of the array of resources that are available for individual or group study or reflection. That "toolbox"  is available 24/7 on our presbytery's website. You can find it here.
If you're looking for resources on anti-racism for parents or grandparents or faith formation leaders to share with families with children, don't miss this one
or this one
or this one
The members of the Committee on Representation of our presbytery recognize the work that starts with ourselves. The committee highly recommends this resource for us, a Matthew 25 presbytery, that is committed to seeing Jesus in the faces of those around us who are in need. Sometimes it's a matter of taking off our blinders. Sometimes it's about trading our sorrows. It's about saying black lives matter and doing something about it. It's about looking for the helpers, as Mr. Rogers suggested, but it's also about being the helpers in whatever way in which God calls us. It's about responding to the cries of one who can't breathe with a commitment to address the system that's causing such pain.
"How long, O Lord?" we cry with the psalmist.  Let's channel our longings into faithful actions.
May our longing be for deeper intimacy with the God of all creation and with our Savior.
May our longing be to grow in our discipleship and be people who know we are Christians by our love.
May our longing be to see all people find their needs for safety, health, opportunity, liberty, and justice, and every kind of peace met.
May our longing be to know Christ and to make Him known, to find the common ground we share with all people, regardless of race, status, or creed.
May our longing be to bring glory to his name, with our lips, and with our lives.
May our longing reflect Christ's longing for justice and righteousness and peace and wholeness for all.
Ask God, "How long?" But then allow the one we meet in Jesus Christ to make our hearts long for and act upon something greater than answers to our questions.
Jennifer