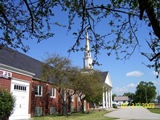 It's not too late for new year's resolutions, right? I mentioned at the February assembly that the presbytery has a blog, and that I intend to blog more regularly. I have a challenging time remembering how to get in to the site in order to post. I am never sure if what I am writing is saving correctly for publication. I think the problem is that I don't blog often enough to have blogging feel effortless. I struggle to add graphics and pictures. It's just not an intuitive process for me yet, like journaling or sitting down for my morning devotionals.  I learned to blog on another platform and got the hang of it, but I haven't gotten the hang of this yet.  It feels like the difference between learning to drive a car with an automatic shift and then switching over to a stick shift. It's just awkward. I really want to do better. Practice, practice, practice, I suppose.
So, after twenty minutes of trying to find my way in, I'm here. I was planning to blog about the terrific class  I' m taking from our strengths-spotters mentor, Jane Anderson, but I barely have enough time left before I have to leave for an appointment.  I'll come back tomorrow and write about character strengths and what I'm learning about the process of learning more about spotting strengths all around me.
For today, perhaps it's enough to think about this frustration in another way. Perhaps the awkward, frustrating approach is not unlike any new habit or discipline. As a beginner to blogging on this platform, I feel like I'm unqualified to be blogging, that it's more trouble than its worth, that I'm not accomplishing what I set out to do.  I've certainly felt this way in other practices in my life. I'm taking violin lessons or the first time in my life and it's awkward and not pretty just yet, but practice is helping.  Whenever I set out to deepen my prayer life, I invariably find my mind wandering, or have trouble establishing a daily habit of silence, or journaling, or walking or whatever.  But practice helps.
Resolved:  blog daily, in order to get this habit established. I'll lean into my strength of perseverance in the effort to move from effort to less effort to effortless, in the hope that this blog will connect us as people who care about churches thriving in the 21st century.
Photo: First Presbyterian Church of Merrillville, home of Feeding the Flock, a dynamic ministry that exemplifies the results of regular practice.