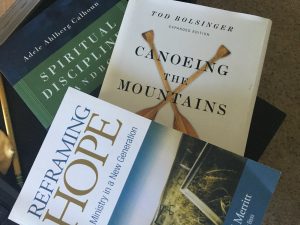 Here in the dog days of summer there are a few quiet moments and I'm bound and determined to slow down and work at resuming blogging here. I love to write, and I love the Presbytery of Wabash Valley, so this should be easy.
I'm catching up on some neglected reading and am absolutely loving Canoeing the Mountains by Tod Bolsinger (InterVaristyPress 2015). It's a book for any church leader interested in navigating the waters of change in church life. The title and the premise of the book comes from Lewis and Clark's adaptive leadership, expecting to find a waterway to the Pacific, only to find themselves facing the challenge of crossing the Rocky Mountains. How do we lead in an unexpected context? This book is rich with ideas and illustrations that will inspire great conversation and perhaps a change in perspective.
Reframing Hope: Vital Ministry in a New Generation (Alban 2010) is the second of  Carol Howard Merritt's three books. The author of Tribal Church and Healing Spiritual Wounds, Merritt offers a loving critique of the mainline Church while offering a hopeful and courageous vision for the Church that is being transformed. Although it's been almost a decade since its publication, Reframing Hope still provides relevance for congregations who seek to offer a home and a welcome to all.
Adele Ahlberg Calhoun's Spiritual Disciplines Handbook (InterVarsity Press 2015) is revised and expanded since its original 2005 publication. This is a re-read for me, and I'm reminded of the rich resources found here for worship planners, spiritual directors, Christian educators, or anyone who is interested in deepening one's spiritual practices. It's artfully organized into sections that corresponds to the letters that spell worship:
Worship God
Open Myself to God
Relinquish the false self and idols of my heart
Share my life with others
Hear the Word of God
Incarnate Christ's love for the world
Pray to God
There's no end to the resources and ideas found within this book. I'm going to keep it on my shelf and consult it as I plan devotions for an upcoming meeting or a future program or retreat.
What are you reading this summer?